Best Winter Trek Destinations to Visit In India In 2023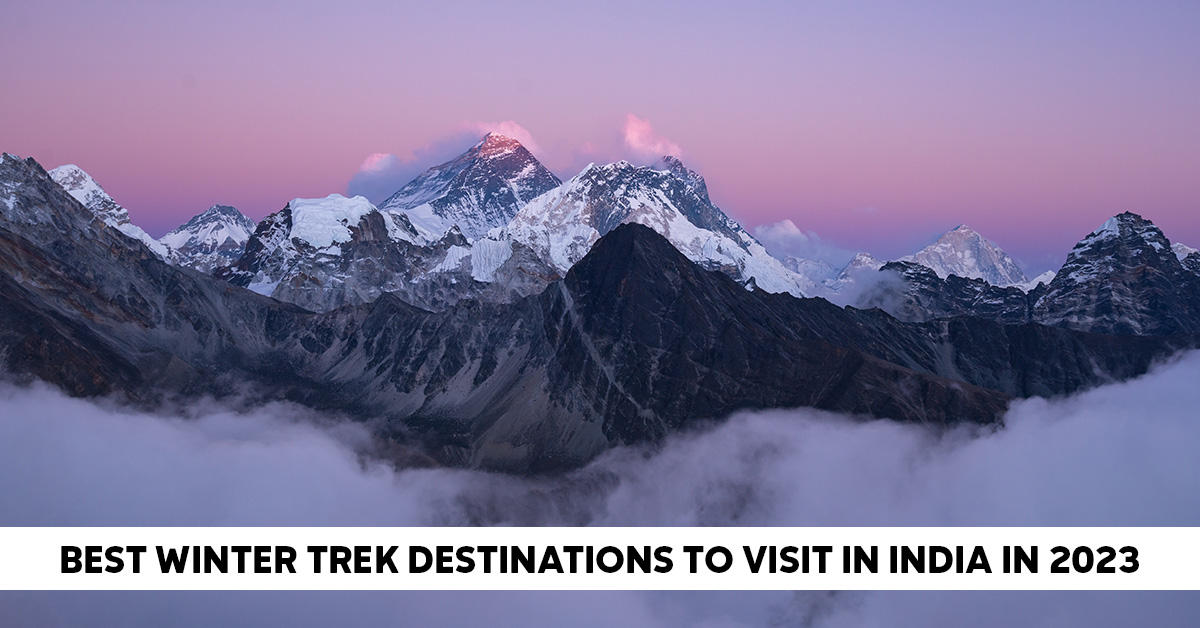 India boasts a plethora of stunning winter trekking destinations that cater to trekkers of all skill levels. Whether looking for a challenging adventure or a serene escape into the snow-covered wilderness, these destinations offer unforgettable experiences. Remember to plan your trip well in advance, and ensure you have the appropriate winter trekking gear to keep you warm and comfortable throughout the journey. To learn about India's best trek destination read the full blog below.
Let's Check Out the Best Winter Trek Destinations To Visit In India In 2023
Winter in India brings a magical transformation to its diverse landscapes. The crisp, chilly air, snow-covered mountains, and frozen lakes make it an ideal time for trekking enthusiasts to explore the country's breathtaking natural beauty. Choose to embrace your winter trek journey in 2023.
Roopkund Trek, Uttarakhand
Nestled in the Garhwal Himalayas, the Roopkund Trek is a thrilling journey that takes you to the mysterious Roopkund Lake, also known as the Skeleton Lake. During winter, this trek offers a serene experience as the lake remains frozen and the surrounding peaks are covered in a pristine blanket of snow. The trek not only provides stunning views but also a glimpse into the mysteries of the past with human skeletons visible beneath the ice. To keep your hands safe from the cold, you can add insulated gloves.
Kedarkantha Trek, Uttarakhand
The Kedarkantha Trek is perfect for those seeking a winter wonderland trek experience. This trek in Uttarakhand offers panoramic views of snow-clad peaks like Swargarohini, Bandarpoonch, and Black Peak. The enchanting forests, frozen streams, and charming villages make it a quintessential winter trek destination for both beginners and seasoned trekkers. To make the trek easier for you, opt for essential trekking gear that won't give up on you mid-way.
Chadar Trek, Ladakh
If you're up for an adventure of a lifetime, the Chadar Trek in Ladakh is an excellent choice. This unique trek takes you on the frozen Zanskar River, which transforms into a solid sheet of ice during winter, hence it is called a 'Chadar Trek'. Trekking on this icy surface is an exhilarating experience, offering breathtaking landscapes and a deep immersion into the local culture of Ladakh. Adding winter boots with good grip and traction is a must for this trek.
Har Ki Dun Trek, Uttarakhand
Har Ki Dun, often called the Valley of Gods, is a picturesque winter trek destination in Uttarakhand. The trail takes you through dense forests, charming villages, and meadows blanketed in snow. With the backdrop of the Swargarohini peaks, this trek is not just about the journey but also about experiencing the tranquillity and spiritual aura of the region.
Tarsar Marsar Trek, Jammu and Kashmir
Tarsar Marsar is a lesser-known gem in the Kashmir Valley, perfect for a winter trek. This trek offers a surreal experience as you hike across frozen lakes, snow-covered meadows, and dense pine forests. The clear blue skies and views of the Tarsar and Marsar lakes surrounded by snow make this trek a visual delight. So, to make it comfortable you must carry waterproof hiking shoes with breathable construction that will provide superior comfort and stability on the trail.
Brahmatal Trek, Uttarakhand
Brahmatal, often called the "Winter Wonderland," is a lesser-crowded trekking destination in Uttarakhand. This trek offers stunning views of the Trishul and Nanda Ghunti peaks. The highlight is the frozen Brahmatal Lake, surrounded by snow-laden trees, creating a magical ambiance for trekkers. The epitome of trekking comes with softshell jackets that are wind and water-resistant and keep you safe throughout the trek.
Shop For The High-Quality Winter Trekking Gear Online From Adventuras
Remember to check the weather conditions before packing your Trekking accessories. Additionally, make sure to pack enough winter wear and camping accessories for the low and extreme temperatures. Shop online for premium trekking wear, outdoor clothing, and hiking gear from Adventuras' top brands, and enjoy your trek journey!